A Biography on Simon Tutchener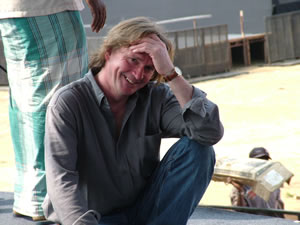 Following an introduction into the world of theatre by his parents, Simon Tutchener graduated from The Royal Scottish Academy of Music and Drama having completed the stage management course.
He spent several years working in theatre in Scotland including the Edinburgh Festival where he met Marshall Bisset who was running the lighting division of TFA Electrosound Ltd. Marshall offered the chance of a job in the rock and roll lighting business which Simon was unable to take up until he had completed a contract with the Bush Theatre Company in London to stage manage The Fosdyke Sagas by Bill Tidy.
Simon's first excursion into the music business would be as fourth man on a four man lighting crew for Queen on their 1978 European tour. He was also introduced at this time to TFA's legendary Managing Director Brian Croft who has, of course, had a huge influence on Simon and indeed the whole music touring business.
The next few years saw almost continuous touring worldwide with the likes of ABBA, 10cc and Rod Stewart. Then in 1981 Simon created his first lighting design for London band Madness. This association continued until the band ceased touring in the late 80s. During this time he also designed lighting for such artists as Kim Wilde, Swing Out Sister and Meatloaf. In addition he was Lighting Director for Bob Dylan, Joni Mitchell and Queen on their last tour with Freddie Mercury in 1986.
The 90s brought more challenges creating lighting for a very diverse list of clients ranging from Ryuichi Sakamoto, Squeeze, Nenah Cherry, Ringo Starr and Vasco Rossi to Take That. It was whilst working for that hugely successful boy band that Simon met director Kim Gavin who was to engineer his return to the theatre. They have collaborated on the long running musical Oh! What a Night and more recently Love Shack. They have also worked together on many projects including tours for Eternal and 911. During this period Simon also lit a tour for ex Eternal member Louise and a USA tour for Bad Company featuring the original band members.
In 1997 Simon was asked to light the main show venues at London Fashion Week. He has been responsible for the lighting of this bi-annual event ever since having just completed his 26th season and has also lit numerous spin off fashion and hair shows around the world. These experiences in particular have given Simon a close insight into the lighting requirements of television and stills photographers.
In 2002 he lit his first ice spectacular for Holiday on Ice which was directed by Anthony Van Laast and choreographed by Robin Cousins.
In 2005 Simon completed an extensive world tour with Mark Knopfler of Dire Straits fame and continues a long working relationship with Vanessa Mae.
In 2006 he designed amongst other shows the Take That reunion tour and the Mark Knopfler/Emmylou Harris tour.
2007 saw the extensive Take That "Beautiful World" tour which is now followed by the Mark.